Friends! Bubonicon 46ers! Gentlefen! Lend me your eyes! (Eeeew!)
As I mentioned in Steve Gould's Toastmaster introduction for this year's BuboniCon, I sent out a request for anecdotes of teh Stevester from his many friends, frenemies, enemies, minions, body-snatchers, evil clones, etc. I was swamped—swamped, I tell you—with far more GREAT material than I could use in the intro.
(Oh, for those of you who don't know, I'm Laura J. Mixon, a/k/a/ M. J. Locke, a/k/a/ @MorganJLocke, and Steve and I have been spousal units since WeddingCon in 1989 [Ed Bryant officiated! Woot!]. Welcome to my blog.)
The original Stevie Chuck bio is below. Check back twice daily during the con; I plan to post additional tales of his adventures and misadventures in the morning and at night each day, Saturday and Sunday. You'll come to know him as the fun-loving, anti-gravitational berserkazoid his long-time friends and family have come to know and tolerate…er, love. And if you have Stevie Chuck anecdotes (or even antidotes; Ghu knows we need 'em), share in the comments. His antics must be recorded for posterity! Or at least extortion purposes…
(Do scroll down to the end, even if you've already read the dead-trees version of the intro; there's a little Easter egg for you.)
_______________________________
Thrilling Stevie Tales
by Laura J. Mixon (M. J. Locke)
 Many know Steven Gould as the writer of the wildly popular Jumper science fiction series (including Exo, out in September), made into a major motion picture a while back; or as the guy that James Cameron recently tagged to write the AVATAR novels; or as the current president of the Science Fiction and Fantasy Writers of America (SFWA). Some know him as a fourth-dan Aikido black belt. But only a privileged few know his origin story[1].
As his wife, I've known him for 26 years, but even that isn't far back enough to grok the fullness of Stevie. So I reached out to his Cepheid Variable/ AggieCon buddies, who knew him back when he was just getting started in SFF, at Texas A&M University in the early 70s.
I got so many great stories that there is no way I can fit them all into this brief bio[2],[3]. As their anecdotes trickled in, though, a series of themes emerged—along with a growing sense of wonder that he survived long enough to breed. I mean, holy crap! But I'm getting ahead of myself.
Steve is King of the Nerds[4]. His primary superpower is Deadly 3D Tech Attack! This power manifests in the ability (and willingness) to get into spaces no one else would go near, and "fix" things that weren't even broken. When we lived in New York in the early 90s, we had a tiny apartment: 350 ft2 for him, me, and our baby daughter. He had it done up with so many levels, pulleys, and levers, it was like living in a space station. Apparently, he had been honing this skill for years.
Back at A&M, he lived on campus as a student, but later he and his buddy Bill Page went in together to buy a house near campus. Et voilà, the Monkey House came to be[5]. Bill Page dishes dirt:
There was the time Steve bought a sword. A really neat old sword.

And while playing with it—um, putting on a skilled exhibition of its use—in the Monkey House back yard, he watched in horror as the sword flew into pieces.

The grass was tall.

Steve found all but one of the missing pieces.

After much searching, he devised a plan.

He got string—lots of string—and pegs, and laid off the entire backyard in a series of grids and methodically began sweeping the yard with a metal detector.

Time passed. Mountains rose and fell.

John Tim showed up and asked Steve what he was doing.

Steve explained about the missing piece.

John Tim looked down, bent over and picked up a piece of metal, saying, "You mean this?"
Robin Bailey tells of Stevie and him at ConQuest:
 In case you weren't aware, he was once a male fashion model. David Hartwell was one of the major guests. David, in those days, was known for wearing really loud ties and clothes. Steve and I staged a "David Hartwell Memorial Fashion Show" at opening ceremonies. He came up early and we spent the better part of a day hopping around thrift shops for the worst outfits we could put together. We drafted a few other people, too, and strutted the stage like pros.
And I'll finish with one from Brad Denton:
 Oh, I know! How about the time he tried to kill Robin Bailey? That in itself might not be worth mentioning—since who among us has not tried to kill Robin Bailey? But Stevie attempted to do so by dropping M&Ms from several floors up in a hotel atrium. Bailey tried to catch them in his mouth…but as we know, F=ma, and even the m of an M&M can impart considerable F under the a due to gravity when dropped from a great height. So although Bailey succeeded in orally catching at least one of the plunging M&Ms, it penetrated the roof of his mouth and entered his brain, which later resulted in his decision to run for President of SFWA.
So many more good stories, but I'm out of room! But you get the idea. Stevie Chuck is above all a badass storyteller, a mensch, and a fun guy to hang around. But if he picks up a tool or bag of M&Ms, run!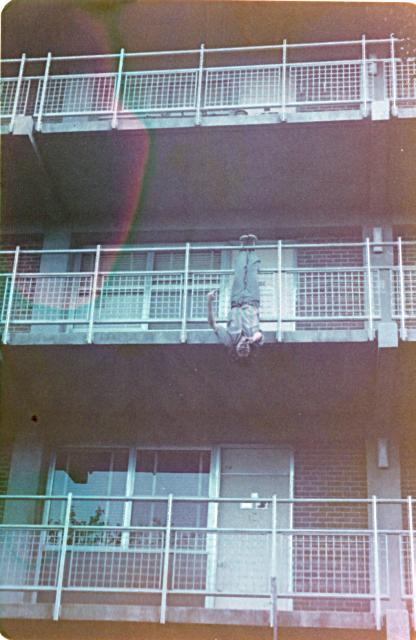 PS- Yes, this is really him, hanging upside down from what appears to be a 3rd story balcony. Hence the "surprised he lived long enough to breed" remark. (h/t Bill Page)
---
[1] Every superhero needs an origin story.
[2] If I did, the program book editor would kill me.
[3] They're just tooooo goooood not to share, though, so I invite you join me at my blog, FeralSapient.com, where I will post them and invite others to share their own thrilling Stevie tales. Heh heh heh… [How meta is this thing anyway? -ed.]
[5] A popular—dare I say, notorious?—Texan slan shack.