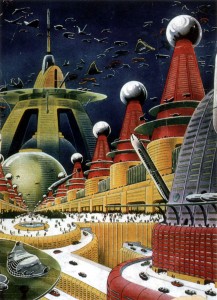 Here's something interesting: CBS News reports that a technology company wants to get its research out of the lab and into the real world. The company is Pegasus Global Holdings, and they intend to build an uninhabited modern replica city in which they can test new technologies.
"A Washington, D.C.-based technology company announced plans Tuesday to build the state's newest ghost town, a 20-square-mile model metropolis that will be used to test everything from renewable energy innovations to intelligent traffic systems, next-generation wireless networks and smart-grid cyber security systems.
"Although no one will live there, the replica city will be modeled after a typical American town of 35,000 people, complete with highways, houses and commercial buildings, old and new."
This just calls out for a story to be set there, doesn't it?
(image courtesy of David Szondy's Future City)