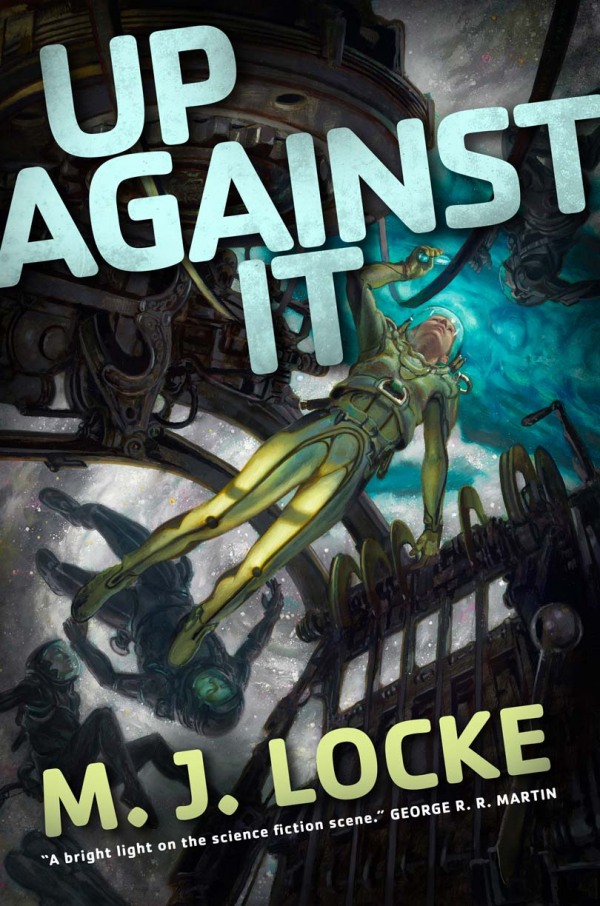 Up Against It is a disaster novel set four hundred years from now, deep in interplanetary space. A hardy group of souls has carved out a life for themselves in the Phocaean asteroid cluster. Among them are Geoff, a teen rocketbiker who can't seem to keep out of trouble, and Jane, head of resource management, whose decisions can mean life or death for her fellow stroiders.
When an explosion wipes out nearly all their methane ice–the source of their energy, air, and water–the Phocaeans' lives are changed forever. Worse, it turns out to have been sabotage–and the disaster spawned a rogue artificial sapient that is wreaking havoc in their computer systems.
The citizens of Phocaea have only three weeks to live–unless they can outwit the saboteurs, subdue the artificial sapient, and replace their missing ice stores in time.
Read more about Up Against It.
Free Sample! Read the first five chapters (PDF).
What the critics are saying:
Publishers Weekly (starred review):
"Compulsively readable… Locke has created a believable ecosystem of struggling, competing, sometimes uncomfortably interacting components, where trust is betrayed painfully, but allies appear unexpectedly.

"Most of all, this smart, satisfying hard SF adventure celebrates human resilience."

Kirkus Books:
"Disaster threatens the survival of an asteroid colony in Locke's part thriller, part survival epic…. Locke's precariously wild frontier is inventive and intensely realized; her characters do dirty-hands jobs and aren't afraid of making difficult decisions.

"Gripping, well-rounded hard sci-fi, satisfyingly concluded while nicely poised for sequels."

Library Journal:
"A refreshing blend of hard sf and topical issues, [with] a resilient heroine who faces her challenges with resourcefulness and courage.

"Fans of technically sound sf should enjoy this well-constructed adventure."

Booklist:
"Thrills, action, real characters that you come to care about, and a true sense of what it would be like to live in a space colony—Locke has given all these.

"Here's hoping to see more books from this writer."
More Praise:
"Manages to be both original — full of smart new ways of looking at science fiction ideas — and old fashioned — full of the kind of whiz-bang action-adventure that made so many of us fall in love with the field in the first place."–Cory Doctorow, author of Little Brother
* * *
"Smart, fast, and with engineering to die for, MJ Locke's UP AGAINST IT begins like a rigorous 21st century take on "The Cold Equations" and twists into a compelling sf thriller. Locke's extravagantly detailed future never loses sight of the human cost of the choices people make and the brutal political games they play. There are no easy outcomes, but there are heroes. This is a fine novel."–Kate Elliott, author of Cold Magic
* * *
"Crisp prose and actual, believable characters — MJ Locke is a strong new voice in hard science fiction."–Katharine Kerr, author of the Deverry novels

* * *
"Starts with a bang and only gets more intense in the pages that follow. MJ Locke fills the novel with the exciting, mindbending combination of action and wild ideas that makes for the best SF."–Jane Lindskold, author of The Firekeeper Saga
* * *
"Rigorous extrapolation with an imaginative flair, characters you can care about, and clean, lean, muscular prose are some of the hallmarks of MJ Locke, a bright light on the science fiction scene. Fans of hard SF will eat this up and shout for more."–George R. R. Martin, author of A Song of Ice and Fire

* * *
" MJ Locke's Up Against It is a bold and challenging young adult SF novel full of ideas with teeth. Not content with a typical YA fare goshwow asteroid colony, Locke's asteroid colony is rife with "If This Goes On" social change and commentary that runs headlong into some of the more cutting-edge "What If" technology around. The result is a world where the four focus coming-of-age teenagers — in love, in lust, or just trying to get along — come face-to face with death, political intrigue, weird science, and characters pushing the biologic and social norms to the limits. This is 21st century YA SF writ large, and I can only hope for more like it."–Steve Miller, co-author of Fledgling, Saltation, and Ghost Ship
* * *
"MJ Locke combines the science of asteroid settlement with a tale of adventure and intrigue in this impressive, well-realized novel set on the solar system's low-gravity frontier. Recommended." –Linda Nagata, author of Goddesses
* * *
"A fast-paced, gripping story, with strong, memorable characters fighting for the survival of their city."–Martha Wells, author of The Cloud Roads